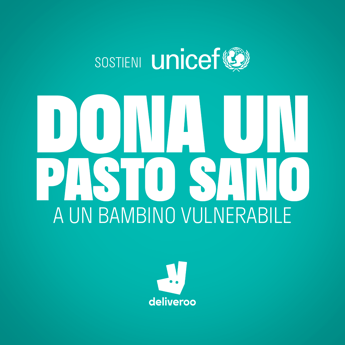 More than € 200,000 has been raised in favor of the Italian UNICEF for food support for the most vulnerable children. This result was achieved by the campaign launched by DeliveryA leading online food delivery platform supporting programs"Unicef" as part of the global initiative "Full Life".
In addition to a direct donation to Unicef ​​Italy, Deliveroo launched a fundraising campaign on its app which gave all users the option to round their account at the time of payment and transfer the difference to Unicef. Thanks to this new technology feature developed by Deliveroo, over 200,000 euros have been raised in the last 6 months to guarantee support to the most vulnerable children and those living in crisis situations. Some of these funds were also used to help children and families affected by the war in Ukraine.
Deliveroo's cooperation with Unicef ​​Italia was not only about engaging customers of the online food delivery platform. The employees of the offices in Milan and Rome as well as the cyclists cooperating with the application have also voluntarily engaged in the hand-made production of Pigotte, symbolic Unicef ​​dolls.
For every Pigotta built, Deliveroo made another donation to Unicef. The completed Pigotte were provided by some riders, on a voluntary basis, to the families of the clients who decided to adopt them, as evidence of their commitment to UNICEF and the most needy children.
"We are very proud of the results achieved through this campaign," said Matteo Sarzana, CEO of Deliveroo Italy. "Our ambition, Sarzana continued, is to become the reference company for the global food industry. For us, it also means that we are doing everything we can to provide the food that many are still lacking. Especially the most vulnerable children. I would like to thank all our users for their great generosity in using our Application, which not only allows you to order something good, but is an increasingly useful tool for doing good and supporting those in need. I would also like to thank the Deliveroo team and the cyclists who voluntarily took part in this project. "
"With the support of Deliveroo, its staff, riders, and especially customers, the funds raised will be used to provide adequate nutrition to many of the world's children who are currently struggling with hunger, hunger, poverty and fleeing conflicts. violence, "said Paolo Rozera, CEO of Unicef ​​Italy. "Today there is so much to do for children around the world and everyone's help is needed," he concluded.