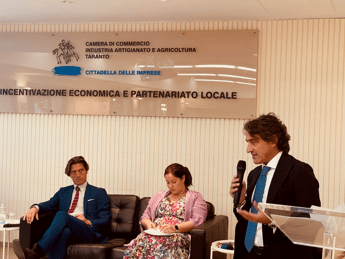 At the Taranto Chamber of Commerce, Ebiten and the region of Apulia conclude a tour of the Puglia territories to present the project "In Armonia Lavoro e Famiglia – Ialf" and to promote topics related to corporate well-being, hourly and organizational flexibility, female employment and employability, reconciliation of life and working time. The project was funded by the Apulia Region as part of the call for "Measures for corporate good and new forms of family friendly work organization". Ebiten is a bilateral body set up by Sistema Impres, Confsal, Confsal Fisals and Fesica Confsal. The meeting was opened by the chairmen of the national bilateral body, Domenico Orabona, and Rosa Barone, regional labor and social welfare councilor, who intervened with institutional greetings, who stressed the importance of promoting targeted policies to disseminate strategic tools aimed at companies and employees to support participation in corporate well-being and women's participation in the world of work.
"To increase the competitiveness of the territories' entrepreneurial fabric," said Domenico Orabona, CEO of Ebiten, "it is essential to improve the quality and well-being of the corporate climate." People who live their work in a more relaxed and happy way are people who work better and more efficiently. Social welfare allows for the harmonization of the company's development prospects with the most genuine life needs of employees and female employees ".
"The training – pointed out Rossella Spada, director of Formimpresa, the cross-industry joint fund Sistema Impresa and Confsal – is a preparation for the implementation of social plans for companies. specific opportunities for participating companies as the 'meter mode' enables them to immediately meet training needs also for corporate welfare. ' Morning speakers: Matteo Pariscenti, CEO of Ebiten; Cesare Damiano, former Minister of Labor and President of the Research Center for Labor and Social Welfare; Fabiano Gerevini, Cat president; lawyer Raffaella Misso of Confsal; Giacomo Cuonzo, president of Ebiten Puglia; Milena Rizzo, head of the social policy department of Sistema Impresa.